Home Style-List Today's Outfit
How's everyone doing after the mayhem of FD Garage Sale last week? Penniless? Been packing lunch from home? That's exactly what we've been feeling here at FDHQ as well. I pity my bank account that will be replenished in two weeks time. Whoever's asking us to host an FD Garage Sale more frequently, really, give my bank account a break will ya! :p
The fun part with having a garage sale like this is the excitement of finding a treasure in someone else's junk. As I unfold my finds one by one from the garage sale, I was truly happy with everything I own. Especially this dress and bag. I'm pretty sure many of you echoes my sentiment. I bet many of you went home with the widest smile because you found something you love. I also enjoyed meeting all the FD-ers in person that day.
What do you think, should we make this something like a quarterly thing?
Dries Van Notten dress (IDR 75,000) / Marc by Marc Jacobs bag (IDR 300,000) / Dior heels (IDR 100,000) / Unbranded necklace (IDR 10,000) and bracelets (IDR 5,000 each)
Total damage: IDR 495,000! I couldn't even buy the bag for that amount of money, let alone pull off a head to toe look. Don't you just love FD Garage Sale as much as I do
Up close on the Marc by Marc Jacobs hobo bag with coated canvas, which is perfect for the rainy season like now. It also fits my 13.3″ laptop perfectly. Just a perfect roomy, everyday bag that you can fill it up to the brim.
The leather cuff and bracelet that I got for IDR 5,000 each! Quite a steal, isn't it?
One other thing that I love so much from my purchase is the Mimco polkadot tote bag. I love this bag to pieces, and thank you Miss_Vintage for selling it to me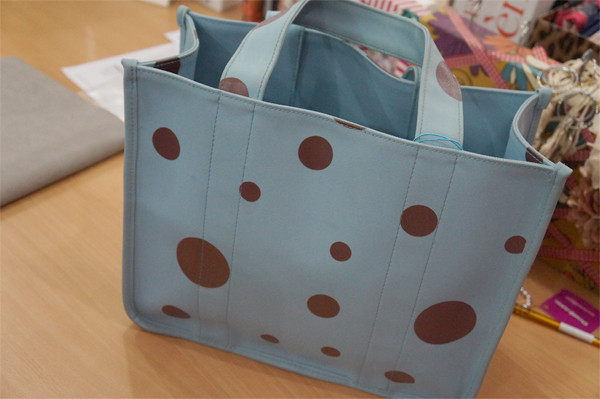 By the way, have you uploaded your recent purchase at Clozette Daily? If you haven't, don't forget to do so and use 'FD Garage Sale' as the tag of your entry. We'd love to see what you score from FD Garage Sale.