– Louis Vuitton ad. Gisele with the monogram denim baggy gm. I like the blue Neo speedy from that line but it's just way overpriced. The way I see it, a bag priced above $1000 and not made out of leather cannot be justified in anyway.
– Burberry ad. Gemma Ward. Preeetyy.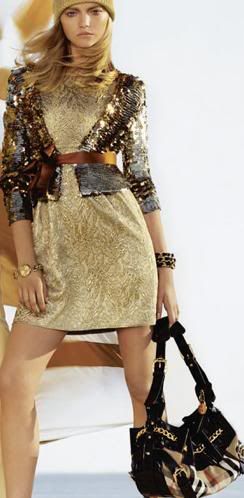 She is wearing this gold chain bracelet with toggle. I don't know if it's the same thing or not but you can get the CC Skype one for $160 from shopintuition.com (see picture). I swear I also saw something similar at Target for less than $10, I wish I took picture!
– Mango ad, wow Mango is everywhere now. Ternyata udah ada di Surabaya, Bandung bahkan Medan.
– Kate Spade ad, opening in May in Plaza Indonesia. get your credit card ready girls!!. I like Kate Spade, but they tend to go on sale, and we can get the past season ones at discounted store like last call Neiman Marcus, Nordstrom Rack or Off Fifth Avenue. I've never paid retail price for Kate Spade.
– Jimmy Choo ad, Nichole Richie with the Ramona bag. Whaat Jimmy Choo is in Plaza Senayan now?.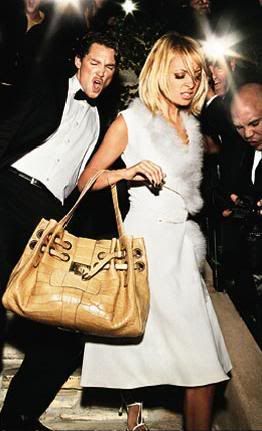 – Coccinelle ad. I think they have pretty bags, more or less like Francesco Biasia, too bad we don't have Coccinelle here.
– Isi lemari. Anastasia, pemilik butik. But they didn't write down the name of the boutique. I wonder what that is?
– Gucci eyewear ad. Doutzen Kroes with the sunglasses that I so badly want!!
– The fashion editorial pages are fun.
– Liputan mode. Antara Los Angeles dan New York. "berdandan ala paris hilton hari ini di LA, berdandan ala wanita sophisticated di New York esok harinya". dududu, please dong, who wants to dress like Paris Hilton anyway??
– Liputan kilas. Bianca Lutfi, pretty as always. Yulisa Baramuli, "saya suka luxury hotel, kalau di luar negeri saya agak manja, harus ada butler, dan barang barang harus ada yang mengangkatkan". I guess I would too if I were in her shoes..;)
– L'oreal ad: Ya ampyuun, itu kenapa orang orang rambutnya jadi pada platinum begitu??
– Hot (bagian foto2 di belakang). Oh no, itu personilnya ratu sebenernya cantik cantik tapi kenapa dandanannya ala Harajuku girls begitu?. Ada Ina Thomas, one word come to mind: chic. I think she always manages to look effortlessly chic in every occasion, the hair is not overdone and not too much make up either. Femmy Permatasari wearing a glittery gold wrap top with a soft gold (or maybe an off white) camisole underneath, gold pants (bahannya kaya bahan kain songket gitu), gold bag, gold necklace, gold bracelet, gold earrings, gold rings and gold *gasp* hair.
– Love the yellow polo shirt on the last page. Anyone know who it's by? It's only said it's from Le Privee Boutique.
Read More: