Finally watched the Victoria Secret fashion show. It was heavenly….beautiful girls..beautiful lingerie..beautiful music (I love the bang bang song from the Audio Bullys (The White Label remix), and the 'Drop it like its hot' mix)..and I even kind of enjoyed Ricky Martin's performance..haha, I know I'm so cheesy. But anyway, it was refreshing to see the show, it looks like a lot of fun, the models were actually smiling unlike the regular designer fashion show whose model put on serious faces. I love the seal performance too, he and Heidi were blowing kisses when she made the grand entrance, how sweet!!! and look at her body, how did she do that??..and oh..Natasha Poly's shoe was stuck on the runway, it was hilarious, but she was being such a pro that she kept on walking like nothing happened, kudos to her, she's so adorable!
Here are 4 of my faves models (Alessandra Ambrosio, Natasha Poly, Andi Muise, Fernanda Tavares)

and here are some more for your viewing pleasures (Heidi, Gisele, Naomi, Adriana Lima, Karolina Kurkova, Tyra Banks):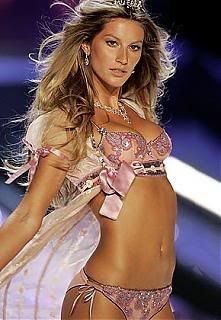 About Hanifa Ambadar
For me, blogging is my attempt to sit down, to put things into perspective and to maintain my sense of self apart of what I do at work. Life as a mother of two and a company to run can be quite challenging at times that I wish time would just slow down for a little bit.
See Also: